EDIT MAIN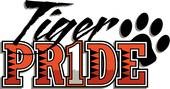 LAWRENCEBURG COMMUNITY SCHOOL CORPORATION
2019-2020 TIGER PRIDE MEMBERSHIP INFORMATION
WHAT IS TIGER PRIDE??
Tiger Pride, Inc. is a non-profit athletic and activities booster organization supporting ALL boys' and girls' athletic and activities programs at LHS and GMS.
WHAT DID TIGER PRIDE DO FOR THE 2018-2019 SCHOOL YEAR?
Donated $13,000 to LHS and GMS Athletic Departments to support ALL boys' and girls' athletic programs.
Paid over $2,000 for GAS for ALL away athletic events
Paid over $2,500 for AWARDS such as certificates, trophies, letters, bars, pins, and blankets, etc. for ALL athletic programs
Fundraising totals over $10,000 to support student athletes
TIGER PRIDE also operates The Tigers Spirit Store selling Tiger apparel and other AWESOME TIGER PRIDE spirit merchandise
As a reminder, Tiger Pride earns income from your yearly membership of $30, advertising in the All-Sports program booklet, buying game ball tickets/split the pot tickets, sponsoring game balls, and purchasing LHS concession stand and Tigers Spirit Store items during the fall and winter season.
2019-2020 Tiger Pride Officers
| | | |
| --- | --- | --- |
| Melissa Knight, President/Awards | Heather Kareckas, Merchandise | Nikki Bosch, Officer |
| Randi Dunn, VP-LHS | Stacey Halbig, Concession Scheduler | Jamie Lorton, Officer |
| Kendra Oberting VP-GMS | Michelle Farmer, Concessions | Maribeth Bradley, Officer |
| Martha Whalen, Treasurer | Suzzi Romines, Advertising | Andrea Rodgers, Officer |
| Angie McCool, Secretary | Aimee Clark, Officer | Beth Lawrence, Officer |
If you have questions or would like to become a Tiger Pride Officer, please email us at: tigerpride@lburg.k12.in.us